The Grammar of Faith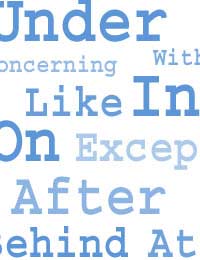 "But God, who is rich in mercy, out of the great love with which he loved us even when we were dead through our trespasses, made us alive together with Christ — by grace you have been saved — and raised up with him and seated with him in the heavenly places in Christ Jesus, so that in the ages to come he might show the immeasurable riches of his grace in kindness toward us in Christ Jesus" (Eph. 2:4-7).
Paul sure liked prepositions–in, with, out of, up, etc. Paul's writings are dense and often tough to read, precisely because he seems to refuse to end a sentence, preferring to keep it going by using prepositions. Paul's prepositions are not, however, careless addenda. They have a purpose: Paul's use of prepositions helps him to nuance his arguments, to add theological "meat" to what he's saying. Paul uses language with intentionality.
One of Paul's prepositions that fascinates me is the word in. The word in denotes an object contained within or by something or someone else. So when Paul says that we have been seated with Christ in the heavenly places "in Christ Jesus," he is making a profound theological statement. We might have expected Paul to say that we have been seated in the heavenly places with Christ Jesus. He uses with quite a bit throughout the rest of this passage, but in this instance he chose in. Why? Does it make any difference?
I don't know, but to have us seated in the heavenly places with Christ Jesus could be construed to suggest some sort of coequal status. On the other hand, the use of in unquestionably indicates that the only way we could conceivably have been "seated . . . in the heavenly places" was in a purely dependent role (i.e., we wouldn't have been invited to the party without Christ). We got in on his coattails–and we remain there only as an act of his grace, not as an act of our own "good life."
Our little in, then, becomes a glorious word, anticipating verses eight and nine: "For by grace you have been saved through faith, and this is not your own doing; it is the gift of God–not the result of works, so that no one may boast" (Eph. 2:8-9). That is certainly good news.
Grace comes in all shapes and sizes. But sometimes, the greatest gifts come in the smallest packages–a tiny baby, born in a manger, a few rusty spikes that held a little Jewish man to a tree, a few mangy, overused words spoken in love ("For God so loved the world . . . "). Even a little word like in can pack a lot of wallop in God's hands.